Smart Lighting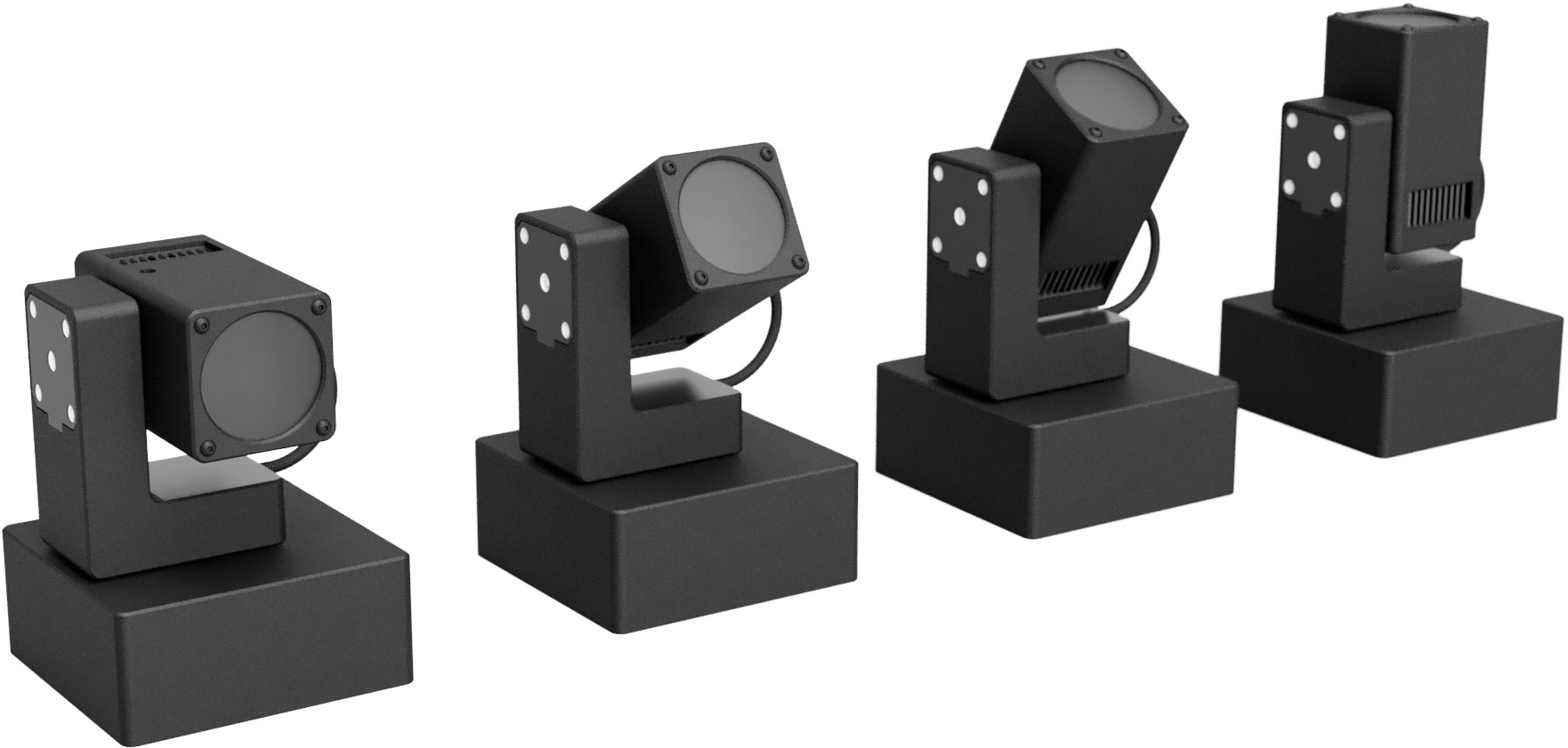 Here comes the pitch
Introducing your next step towards a brighter, smarter, and more colorful world. We are a dedicated group of seasoned professionals - optic connoisseurs, lighting virtuosos, software wizards, and electronics maestros - combining years of experience in both entertainment lighting and the IoT (Internet of Things) realm. We have one simple, but groundbreaking, mission: To seamlessly merge the universe of professional lighting with IoT.
For years, we've made our mark in the entertainment lighting industry, painting stages with light and creating mesmerizing visual experiences. We've dived deep into the IoT world, shaping smart, connected solutions for a seamless, interactive lifestyle. But we noticed something. There wasn't a lighting solution that truly married the best of these two worlds.
On one hand, you have entertainment fixtures, predominantly DMX-controlled. Attempting to manipulate them from your smart home controller? You might as well be trying to light a candle in a thunderstorm. Grouping them or powering them from your smart moving presence sensor? A task more Herculean than it should be. And let's not even get started on the size - who needs a 500W behemoth in their cozy living room or intimate venue?
On the other hand, the so-called "lighting fixtures for IoT" hardly do justice to the term professional. Their lack of versatility and subpar lighting quality left us...well, in the dark.
That's why we embarked on a journey to fuse the precision, quality, and charm of professional lighting with the connectivity, flexibility, and smart features of IoT. The result? The Smart Moving Light.
Imagine a lighting fixture that you can control with DMX, Bluetooth, WiFi, Alexa - virtually any protocol you prefer. A device that effortlessly combines into groups, with a built-in "follow the leader" mode for perfectly synchronized light shows.
Our Smart Moving Light is optimized for smaller rooms and venues, but don't be fooled by its compact size. It packs a punch when it comes to brightness, challenging even the most obtrusive fixtures. And with smooth color mixing thanks to our professional lighting expertise, you'll say goodbye to those displeasing blotchy color light spots from inferior fixtures.
Affordable, user-friendly, and stunningly effective, our Smart Moving Light is not just a gadget - it's the future of integrated lighting. A future we've crafted with diligence, innovation, and an undying passion for merging the realms of light and tech. Experience the harmony of professional lighting and IoT today, and illuminate your world in ways you've never imagined before. Welcome to the brighter side of life.
Introducing Smart Moving Light, our innovative project that brings a new level of brilliance to your space
With Smart Moving Light, you can effortlessly transform any environment into a captivating display of illumination. Our advanced engineering solution delivers impressive light intensity, all within a compact form factor.
One of the key features is our professional color mixing system, ensuring smooth transitions between over 4 million captivating colors. Say goodbye to uneven color patches as Smart Moving Light seamlessly blends hues. Whether it's a concert, performance, or event, Smart Moving Light promises to elevate the visual experience.
Another notable feature is its modular design. You have the flexibility to quickly and independently replace the light source with another. We offer two types of light sources with different power and beam angles. Additionally, it is possible to install a camera, laser, and more.
Operating silently and efficiently, Smart Moving Light utilizes advanced direct-drive motors and sophisticated motor control technology. This ensures precise positioning and exceptional control over lighting effects, rivaling that of professional-grade equipment.
Measuring just 4" x 4" x 6", the latest version of our device is designed to fit seamlessly in various locations. Whether mounted on a wall, ceiling, suspended structure, or showcased in a store, Moving Light effortlessly integrates into any setting, adding a touch of brilliance to your everyday spaces.
Equipped with both Wi-Fi and Bluetooth connectivity, Smart Moving Light adapts to different applications with ease. It also supports the DMX protocol, allowing seamless compatibility with professional lighting control systems. Whether it's a concert hall, theater, or vibrant event space, Smart Moving Light effortlessly syncs with your lighting setup, creating captivating atmospheres.
Furthermore, our user-friendly application allows for easy control of up to 256 interconnected units with a simple touch of a button. This intuitive control system simplifies device management, making it ideal for professionals and enthusiasts alike.
Experience the seamless fusion of scientific precision and everyday usability with Smart Moving Light. Let its captivating glow enhance your surroundings, providing a visual spectacle that will leave a lasting impression.
Smart Moving Light specifications
LED source: RGBW 12W diode
Color mixing: RGBW stepless color mixing
Dimming: 0-100% linear adjustment
Pan: X-axis 540 degrees, with self-recovery closed-loop system;
Tilt: Y-axis 270 degrees, with self-recovery closed-loop system.
Strobe: 0.1-25.5 sec. period
X/Y axis: 16 bit scanning
Velocity and acceleration adjustment
Different color transition types
Active low noise temperature control
Control interface:
Protocol/Interface: RS486, DMX-512, WiFi, BLE, Z-Wave, etc. Contact us for specific protocol/interface
DMX: 12/14-channel DMX-512 control options
Standalone WiFi/BLE interface
Daisy-chain: Virtually unlimited
Workgroup control
Stand-alone preloaded sequence player
Wi-Fi connection with a Web-interface control panel
Click here to visit Teramaxtech.com and inquire about this product avalability and price