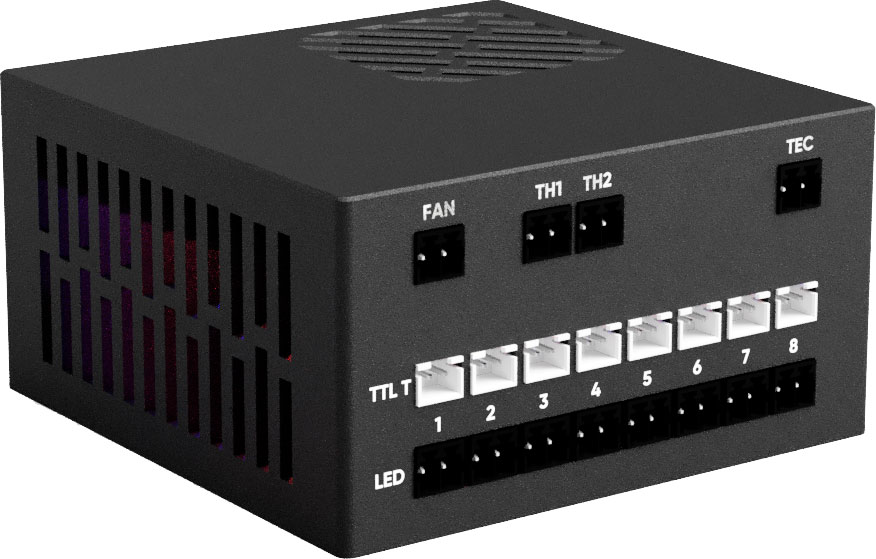 Smart Multichannel Precision LED Controller
The Smart Multichannel Precision LED Controller is a highly advanced and versatile controller that allows for precise control of LED operations. Whether you're working on lighting installations, home automation systems, or any other application that requires accurate LED control, this controller provides the functionality and flexibility you need. With its impressive features and expandable capabilities, it is an ideal choice for lighting applications.
The key features of the Smart Multichannel Precision LED Controller
Eight LED Channels: The controller supports up to eight LED channels per controller, providing you with ample control options for your lighting setup.
Expandability: With the RS485 interface, the controller can be easily expanded to accommodate additional controllers, allowing for virtually unlimited scalability.
Independent Channel Control: Each channel can be independently controlled across the controller array, giving you precise control over individual LEDs or LED groups.
Multiple Control Options: The controller offers various control methods, including primary/secondary controller configuration, WiFi control, Bluetooth Low Energy (BLE) control, and CAT-6 cable control. Secondary controllers can be connected to the master controller using either WiFi or cable connections.
Protocol Support: The Multichannel Precision LED Controller supports a range of protocols such as I2C, DMX, DALI, and Smart Home protocols like zWave and zigBee, enabling seamless integration with different systems and devices.
External TTL Trigger Inputs: Each channel is equipped with external TTL trigger inputs, allowing for additional triggering options and synchronization with external devices.
In addition to LED control, the Smart Multichannel Precision LED Controller offers advanced features for thermal control, temperature monitoring, and fan control
Thermal TEC Control:
Two-channel TEC control using PID control for heating and cooling applications.
Excellent output signal stability achieved by maintaining a constant temperature using TEC.
LED blocks can be kept at a predefined constant temperature, ensuring stable light output.
Upgradable to support more channels with a maximum capacity of 10A per channel.
Temperature and Fan Control:
Three temperature sensor inputs for precise temperature monitoring.
High accuracy temperature sensors with a deviation of only +/- 0.05 degrees Celsius.
Two channels for independent control of 12V variable speed cooling fans.
Light Control:
Smooth and precise light output with minimal pulsation (< 0.05% RMS noise).
Supports the use of photo-sensors or spectral sensors for intelligent light control.
Multiple I2C connectors allow for the integration of a virtually unlimited number of sensors.
Calibration capability for individual LEDs, with the ability to store calibration data in memory.
Control of spectrum or correlated color temperature (CCT).
The Multichannel Precision LED Controller ensures reliable and efficient operation with various built-in protections and specifications:
Electrical Specifications: Standard configuration offers 1A/5W per channel, with easy upgradability for higher current and voltage control.
Smooth output voltage with minimal voltage pulsation (< 10mV).
Precise voltage control with a 10mV step, upgradable to 1mV step.
Short-circuit protection for each channel.
Voltage limitation to prevent spikes.
General Specifications:
Operating range: 5°C to 45°C when using TEC controllers, with humidity below 90%.
Power adapter: 12V (specific current to be determined).
Interface: Smartphone app for convenient control, computer-based software for control and data logging, and a software API for integration with other systems.
The Multichannel Precision LED Controller is designed to meet the demands of professionals in the lighting industry, home automation enthusiasts, and anyone seeking precise LED control. With its expandable nature and comprehensive feature set, it provides a powerful solution for controlling LED operations